Sail Dream Project | Japanese Speech Contest

Speakers are here
Participate in the Sail Dream Project
Watch the final stage here.
Register to view the final stage of the Sail Dream Project
Sail Dream Project Now Beginning! Get closer to your dreams this spring through Japanese
We will be holding a worldwide Japanese speech contest for those who want work in Japan, and those who want a job where they can use Japanese.
Our contest will have many stages. After passing many rounds of selection, our finalists will give a speech on what their dream is.
By holding the Sail Dream Project, it is our hope that we have created an opportunity to get to know Japan and the Japanese language, to be able to speak more in Japanese, and to work in Japan.
Together with those who have dreams, and with those supporting them, we aim to make the Sail Dream Project a fun success.
Participate in the Sail Dream Project
About Helte
Paving the way for a vibrant and harmonious future
At Helte, through the Japanese global communication app Sail, we develop glocal (global and local) services that connect Japan and the world in collaboration with those who hold similar values from the industrial, academic, government, and private sectors.
What is Sail?
Connect with Japanese people through your computer, smartphone, or tablet! Enjoy interacting with wise, experienced Japanese people you wouldn't be able to come into contact with otherwise.
Sail Dream Project Schedule
* Dates and times are displayed in Japan time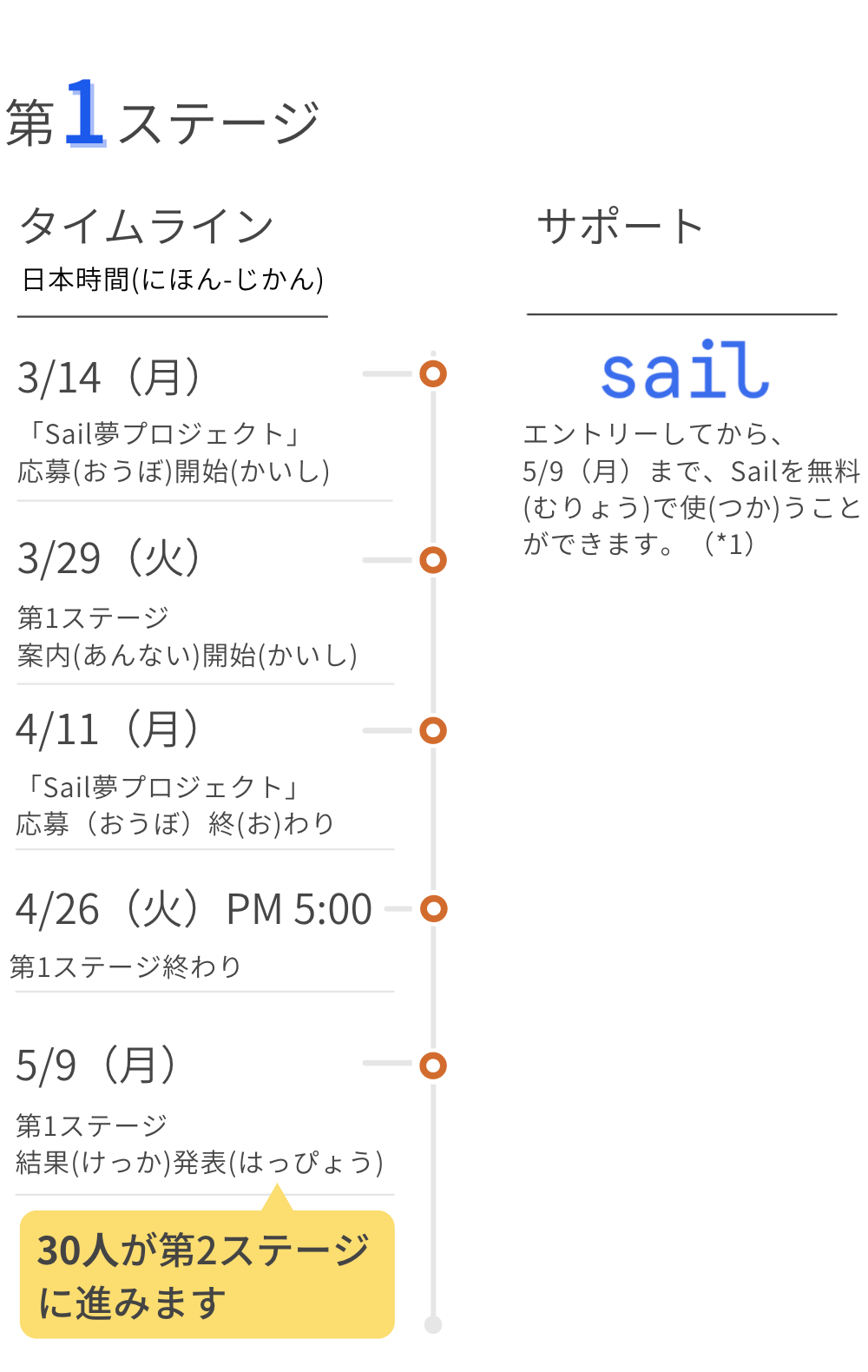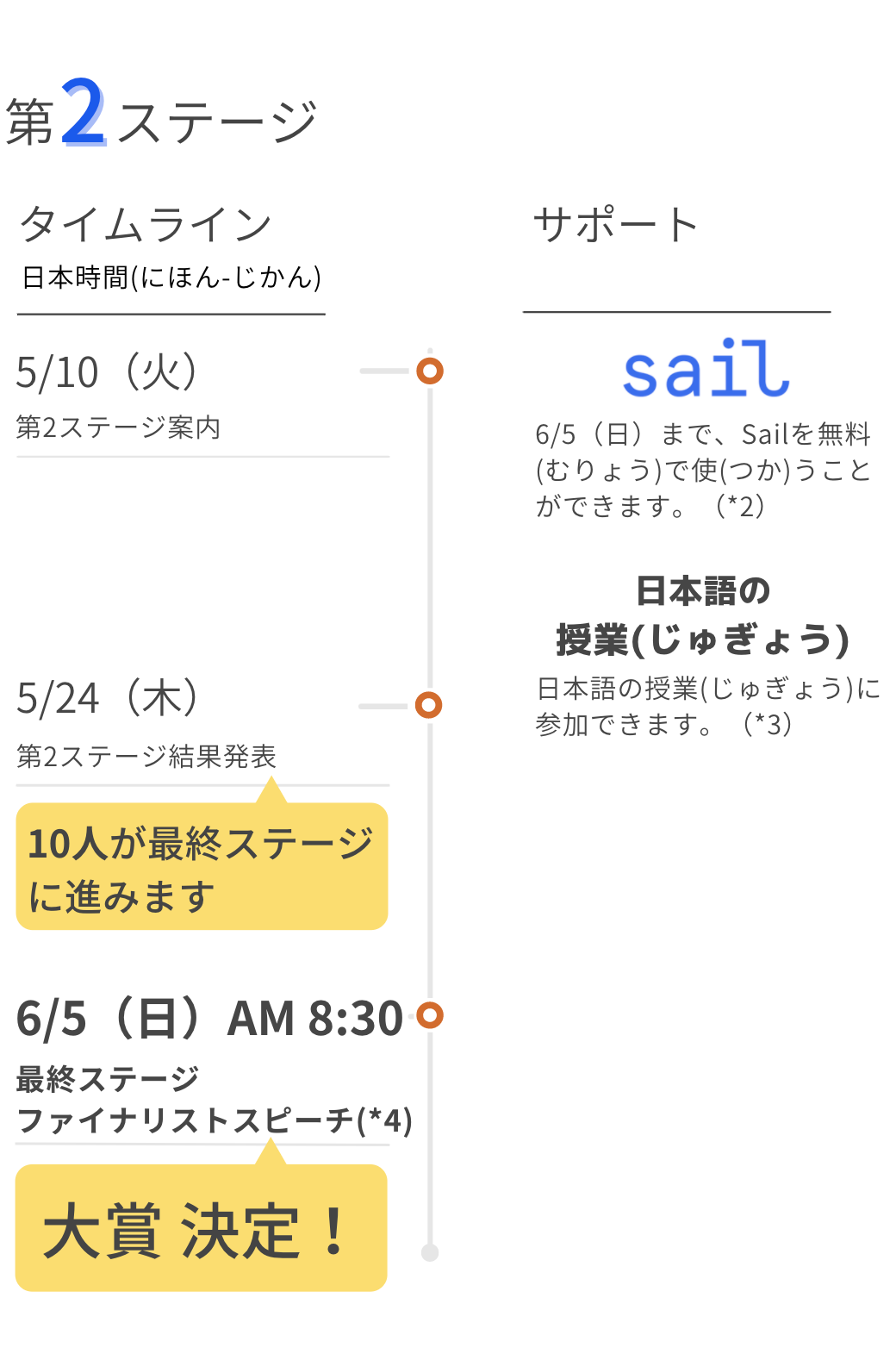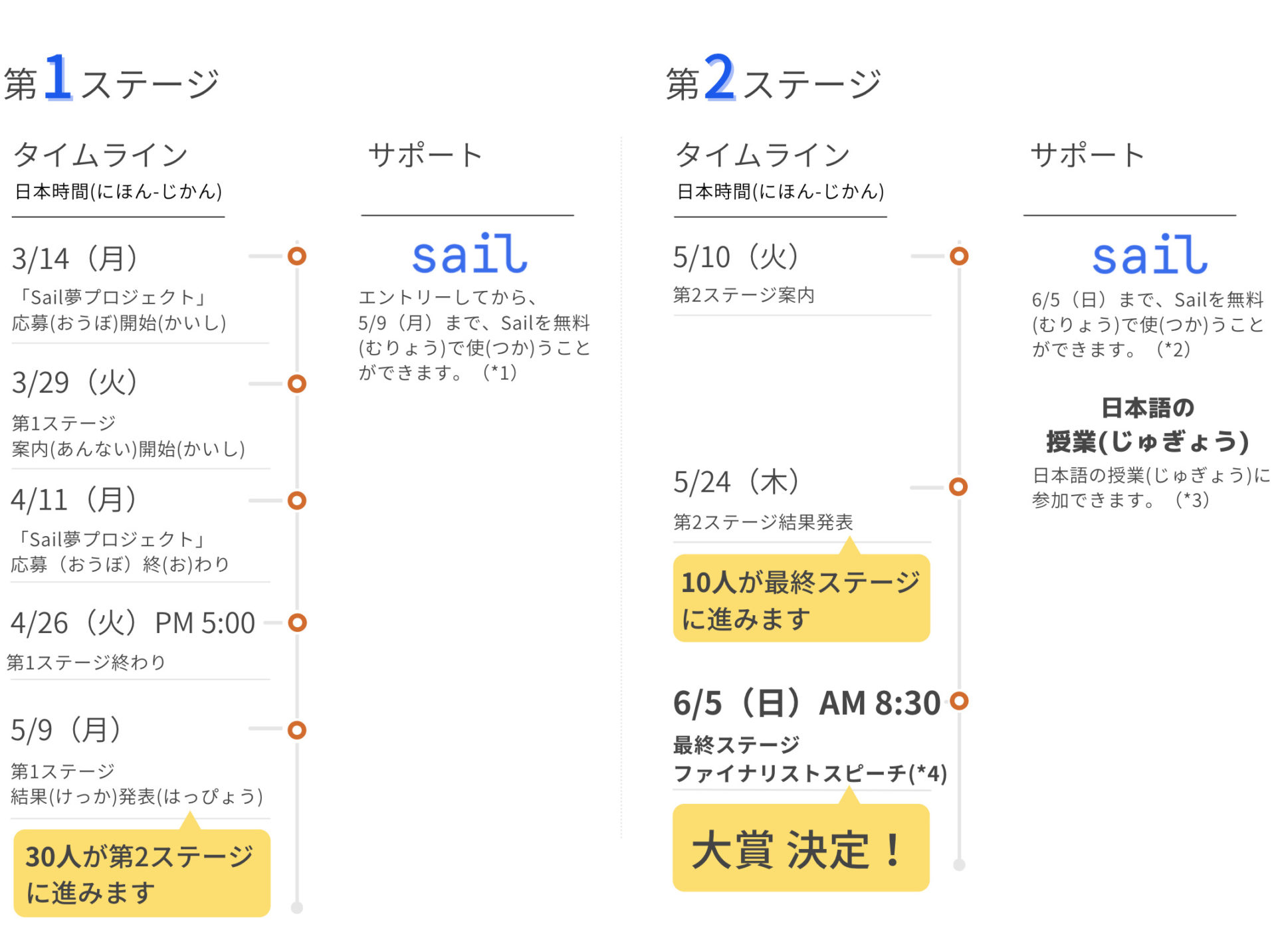 Sail Dream Project Schedule
* Dates and times are displayed in Japan time
1st Stage
March 14th (Monday) Sail Dream Project Registration Begins
March 29th (Tuesday) Announcement of the First Stage
April 11th (Monday) Sail Dream Project Registration Ends
April 26th (Tuesday) End of the First Stage
* 30 participants can be chosen for the 1st stage.
For those who have applied for the Japanese speech contest by April 11, the submission form for the 1st stage will be emailed to you.
In the first stage, you will answer three questions in Japanese writing. Answer each question in 150-300 words. The answers to the three questions will be used as the essay.
①What kind of person are you? Please introduce yourself.
②What is your dream? Please also tell us the relationship between your dream and Japan and the Japanese language.
③What are you doing now to achieve your dream? Please tell us what you are working hard on and what you find difficult to achieve your dream.
The deadline is April 26, 17:00 JST.
You may submit your essay as many times as you like until the deadline.
If you submit more than one essay, the most recent essay will be considered.
Examples answers have been prepared. If you do not know what to write, please look at it for reference.
Posting of essays on the website
Once you submit your essay for the 1st stage, your essay can be posted on Sail夢プロ応援ページ. By posting your essay, you will receive messages of support from Sailers in Japan and around the world who visit this website. You may also have a better chance of winning the "Audience Award" if you are selected to compete in the final stage.
*Whether or not your dream is posted on the website will not affect the outcome of the judging process. Please be assured.
If you would like to be listed on the website, please email support@helte-corp.com with the following information.
①Name (Nickname is also acceptable)
②Title of the dream(about 20 words)
③A photo of the paper on which you wrote your dream (a photo that does not show your face or just your face is fine. Data such as PowerPoint is also acceptable)
Stage Two
May 9th (Monday) Announcement of the First Stage results
May 10th (Tuesday) Announcement of the Second Stage
May 24th (Thursday) Announcement of the Second Stage results
June 5th (Sunday) Final Stage・Finalist Speeches
* In the second stage, 10 participants will be chosen, and the final stage will be announced.
Support From Sail
* All participants will be able to use Sail for free until May 9th, 2022. Sail is an app for speaking with people in Japan. Be sure to try to speak with many people in Japanese! Existing paid subscribers are not eligible for the free plan.
* Participants in the second stage will be able to use Sail for free until June 5th, 2022.
* Participants will be able to participate in special free online Japanese classes to help them with giving a speech in Japanese. Let's make friends from all over the world that also study Japanese!
* During the final stage, speeches will be made in front of judges. Do your best, and tell us about your dream!
Introducing the Professors of the Free Japanese Online Class
Ayumi Asabe
As a JICA Japan Overseas Cooperation Volunteer, she engaged in Japanese language education at a secondary education institution in the Kingdom of Thailand. After returning to Japan, she studied Japanese language education and cultural understanding at the Waseda University Graduate School of Japanese Language Education. She has experience teaching local Japanese classes in Japan and academic writing to Japanese university students.
Akiko Goda
After graduating from university, she engaged in Japanese language education at a high school in Indonesia and as a Japanese language school in Brazil. After returning to Japan, she went on to study the development of Brazilian children of Japanese descent. In the present day, she continues to provide Japanese-language support to foreign families residing in Japan on holiday.
Various Prizes
We have been preparing various prizes to fulfill the big dreams of those around the world who want a job that uses Japanese and want to work in Japan!
Grand Prize (1 Winner): An invitation to Japan!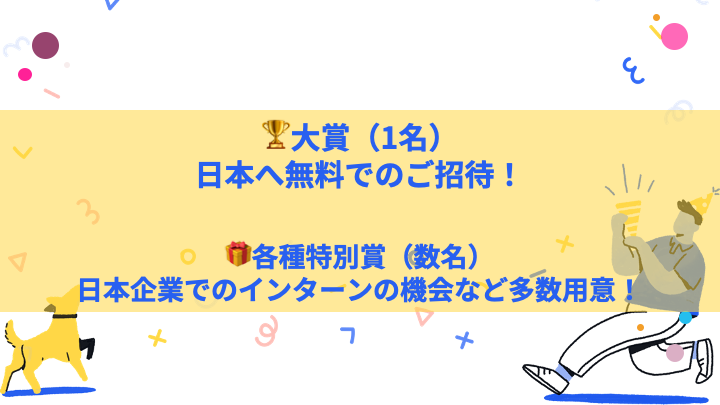 Grand Prize (1 Winner)
An expenses-paid invitation to Japan!
Special Prizes (Many Winners)
Internship Experiences at Japanese companies!
What would you do if you could go to Japan? Meet many people, go to different places, and get closer to your dream!
For example, you could listen to talks at companies and universities in Kanagawa Prefecture, and experience Japanese culture in Kyoto!
* Helte will pay for hotel, travel, and transportation expenses (including plane and Shinkansen tickets).
* The schedule for your stay will be decided together in consultation with Sail staff.
* The stay in Japan will last from 1 to 2 weeks.
Various Special Prizes: Internship Experiences at Japanese companies!
We've prepared various special prizes, including internship experiences at Japanese companies.
* Detailed information will be provided at a later date.
Application Requirements
Participation Conditions
Japanese is not your native language.
How to Participate
Please click the button below to register (registration ends on April 11th).
Participate in the Sail Dream Project
Speech Theme
"My Dreams about the Japanese Language and Japan"
Final Presentation time
3 minutes to 3 minutes and 30 seconds
*Please note that points may be deducted for short or long presentations.
Judging Standards
①Content of speech: Specificity and originality of "Your Dream"
②Japanese language ability: vocabulary, grammar, and proper pronunciation
③Presentation skills: loudness of voice, intonation, eye contact, etc.
*① will be given the most importance. We will not accept any inquiries regarding the results of the judging.
About the Judges
* There will be additional judges. They will be introduced at a later date.
Yuji Akaba (BreakThrough Partners)
After graduating from the University of Tokyo, he worked at Komatsu Ltd., studied abroad at Stanford University's Graduate School, and then went on to work for 14 years at the global consulting firm McKinsey. In 2002, he co-founded BreakThrough Partners. He has published 24 books in Japan and 25 books worldwide, including Zero byou shikou: atama ga yokunaru sekai ichi shinpuru toreeningu (published by Diamond), a bestseller which has sold more than 340,000 copies. In total, he has sold more than 1.15 million books.
Kasia Lynch (Ikigai Connections LLC.)
Kasia (カーシャ) a trilingual American who spent 8 years in Japan, including high school, college, graduate school, and her professional career. She earned her Bachelor's from Boston University and Master's from Tokyo's Ochanomizu University. Kasia's career utilizing Japanese language and cultural skills began in 2003 with concert promotion, and later moved to interpreting/translating, electronics, and the automotive industry. She was able to do this while living in Japan, Poland, Italy, and the US. Since starting Ikigai Connections in 2018, Kasia has been featured in various Japan-related podcasts, websites, and webinars, including USJETAA, Small Business Japan, Laurasian Institution, Japan Expert Insights, and BFF Tokyo. Her goal is for NihongoJobs.com to become the go-to job board for all Japanese jobs in the US.
Wataru Sasaki (Japanese Language Teacher)
While in college, he took a Japanese language teacher training course and the Japanese Language Teaching Proficiency Test. After graduation, he gave private lessons to business people, taught Japanese at Japanese language schools and vocational schools, and participated in JICA's Japan Overseas Cooperation Volunteers program, teaching Japanese at a middle and high school in Thailand. After returning to Japan, he earned a master's degree from Tokyo University of Foreign Studies. Currently, he teaches Japanese to international students at a vocational school.
Yoshihiro Sugiura (Co. Daihyosewanin)
Born in Osaka, Japan, in 1963, he changed jobs twice when he was in his 20s.
He currently serves as an advisor and sponsor for more than several dozen companies. He continues to meet with more than 1,000 presidents a year through referrals alone.
Bonny (Japanese Language Teacher/Youtuber)
Taiwanese Japanese teacher. She loved Japanese songs since she was child, and after graduating from university, she taught herself to pass the Japanese Language Proficiency Test N1. She also manages a Japanese learning channel for Taiwanese people on Youtube, "兎子日文", where she teaches Japanese language and culture to Taiwanese people in an easy-to-understand way.
Schedule of the Last Stage
May 6th, 2022 (Sunday) 8:30 AM - 10:30 AM
Location: Zoom Webinar
* The webinar will be open to the public, but registration is required.

During the final stage, the 10 participants who advanced past the first and second stages will give their speeches.
The Sail Dream Project values the strength and passion of everyone's dreams more than Japanese grammar or pronunciation.
Japanese audience members (non-judges) will also be able to attend the final stage.
The prizes are currently being prepared and finalized. More in-depth details will be posted at a later date.
A Message from the team behind Sail
Currently, there are many people hoping to work in Japan that use Sail and are able to practice speaking in Japanese and learn about Japanese culture. Helte, the company that runs Sail, is hoping to support those that are thinking of working in Japan.
We're gathering the dreams of all those who want to work in Japan, and introducing those dreams to everyone in Japan. We would like to support your growth through Sail and the Japanese classes that will be offered.
We hope that everyone who's thinking about working in Japan registers!
Contact・Frequently Asked Questions
Contact
If you have any questions, please feel free to contact us at any time through the mail address below.
Helte Support Email Address: support@helte-corp.com (Contact: Mr. Oono)
Frequently Asked Questions
・Is there an age limit to participation?
No, there is no age limit! Those aged 17 and under will be afforded opportunities other than an internship.
・What level of Japanese do you have to be to participate?
Any level of Japanese is welcome.
・Are the times described here in Japan time?
Yes, all the times are written in Japan time. Please be sure to double check the times!
・If I participate in the Sail Dream Project, can I use Sail for free?
Yes, as long as you are participating, you will be able to use Sail for free.
Participate in the Sail Dream Project
・Until when can I use Sail for free?
All participants will be able to use Sail for free until May 9th, 2022, Japan time (Monday). Those who advance to Stage Two will be able to use Sail for free until June 5th, 2022 (Sunday).
・I currently live in Japan. Can I participate in the Sail Dream Project?
Yes.
・What will the grand prize be like if the winner lives in Japan?
We will prepare an experience that will allow you to go to many places within Japan and get to know Japan more deeply. Please think about whether there's anything in particular you want to do in Japan!
・Will the special online Japanese classes and the final stage of the speech contest be held online?
Yes, everything will be held online.
・What will I do in the online Japanese classes?
During the first stage, you'll give a speech on 3 topics. Together, we'll think about grammar and vocabulary that you can use. You'll be able to practice your speech, and work on your pronunciation!
・What kind of speeches and people will win the grand prize?
1. Those who tell us about their dream (more important than being good at Japanese is having a dream to tell us).
2. Those who can make plans and take action to make their dream come true (and if you need help, let us help you make those plans and take those actions together!)
3. Those who can tell us about their dream in Japanese (and we'll help you practice your speech with our Japanese professors during the online classes).
・I'm not very good at Japanese. Can I still participate?
Please, feel free to participate! The Sail Dream Project speech contest is different from other speech contests. We value the passion behind your dreams more than perfect pronunciation and grammar.
・Has the schedule already been decided for the grand prize?
We will consult with the winner to decide on a schedule and plan one to two weeks where they will be in Japan. Additionally, we can plan around the general situation due to COVID-19 and any possible Japanese border restrictions. The grand prize can be redeemed at any time within two years.
Sailのホームページはこちら
Check out Sail's home page

SNSはこちら
And follow us on social media