3月のCafeさくら🌸のお知らせです。
(English follows Japanese)
Cafeさくら🌸の説明はこちら/About Cafeさくら🌸
▼テーマ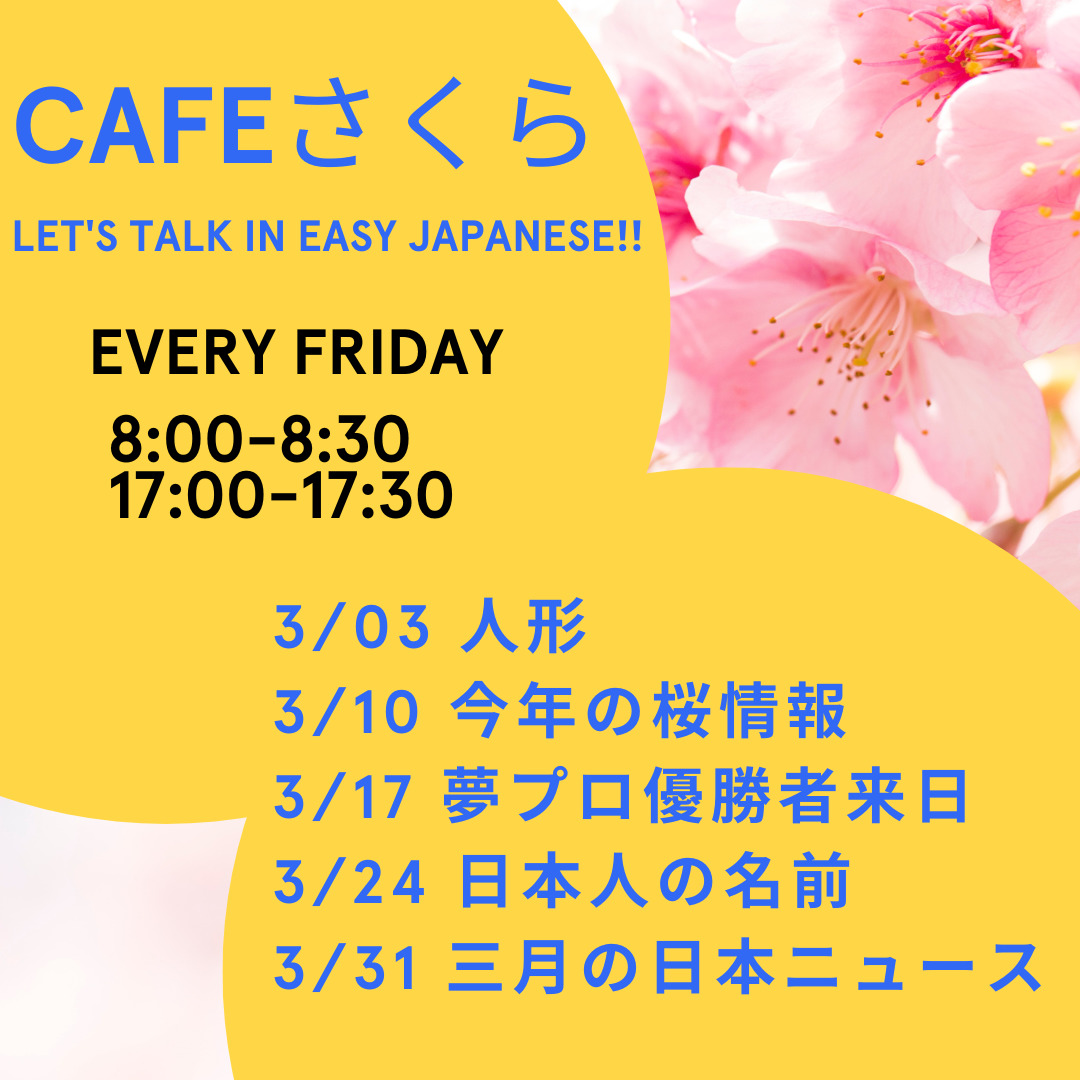 3月3日 8:00~/17:00~(JST) 人形
3月3日はひな祭りの日です。ひな人形や人形供養などについて話します。
10日 8:00~/17:00~(JST) 今年の桜情報
日本では少しずつ桜のニュースを見るようになってきました。今年の桜開花情報や、さくら味の食べ物について話します。
17日 15:00~(JST) 夢プロ優勝者来日
日本の人が集まる、喫茶るんるんと合同で開催します。第1回Sail夢プロジェクト日本語スピーチコンテストで優勝したラドワさんがエジプトから来日します。来日してどんなことをしているか、話します。
24日 8:00~/17:00~(JST) 日本人の名前
日本の学校や会社は4月が新しい始まりです。初めて会う人の名前が覚えやすいように、日本人の名前について話します。
31日 8:00~/17:00~(JST) 3月の日本ニュース
今月日本で起こったニュースをやさしい日本語で話します。皆さんの国や地域ではどんなことがありましたか?教えてください。
Topic
March 3rd 8:00~/17:00~(JST) Doll
March 3 is the day of the Doll Festival. We will talk about hina dolls and doll memorial services.
10th 8:00~/17:00~(JST) Cherry blossom Information in 2023
In Japan, we are gradually starting to see news about cherry blossoms. We will talk about this year's cherry blossom blooming information and cherry blossom-flavored foods.
17th 15:00~(JST) Yume Pro Winner Visits Japan
This event will be held jointly with Kissa Rurun-Rurun, where Japanese people gather. Ms. Radwa, the winner of the 1st Sail Dream Project Japanese speech contest, will come to Japan from Egypt. We will talk about what she is doing after coming to Japan.
24th 8:00~/17:00~(JST) Japanese Name
April is a new beginning for Japanese schools and companies. To help you remember the names of people you meet for the first time, we talk about Japanese names.
31th 8:00~/17:00~(JST) Japan News in March
I will talk about news that happened in Japan this month in easy Japanese. What happened in your country or region? Please tell us.
Sailのホームページはこちら
SNSはこちら
動画コンテンツのご視聴はこちら