The World's Largest Japanese Speech Contest—The 2nd Sail Yume Project—Is Now Accepting Registrations
The World's Largest Japanese Speech Contest—The 2nd Sail Yume Project (sponsored by Helte Co., Ltd.)—Is Now Accepting Registrations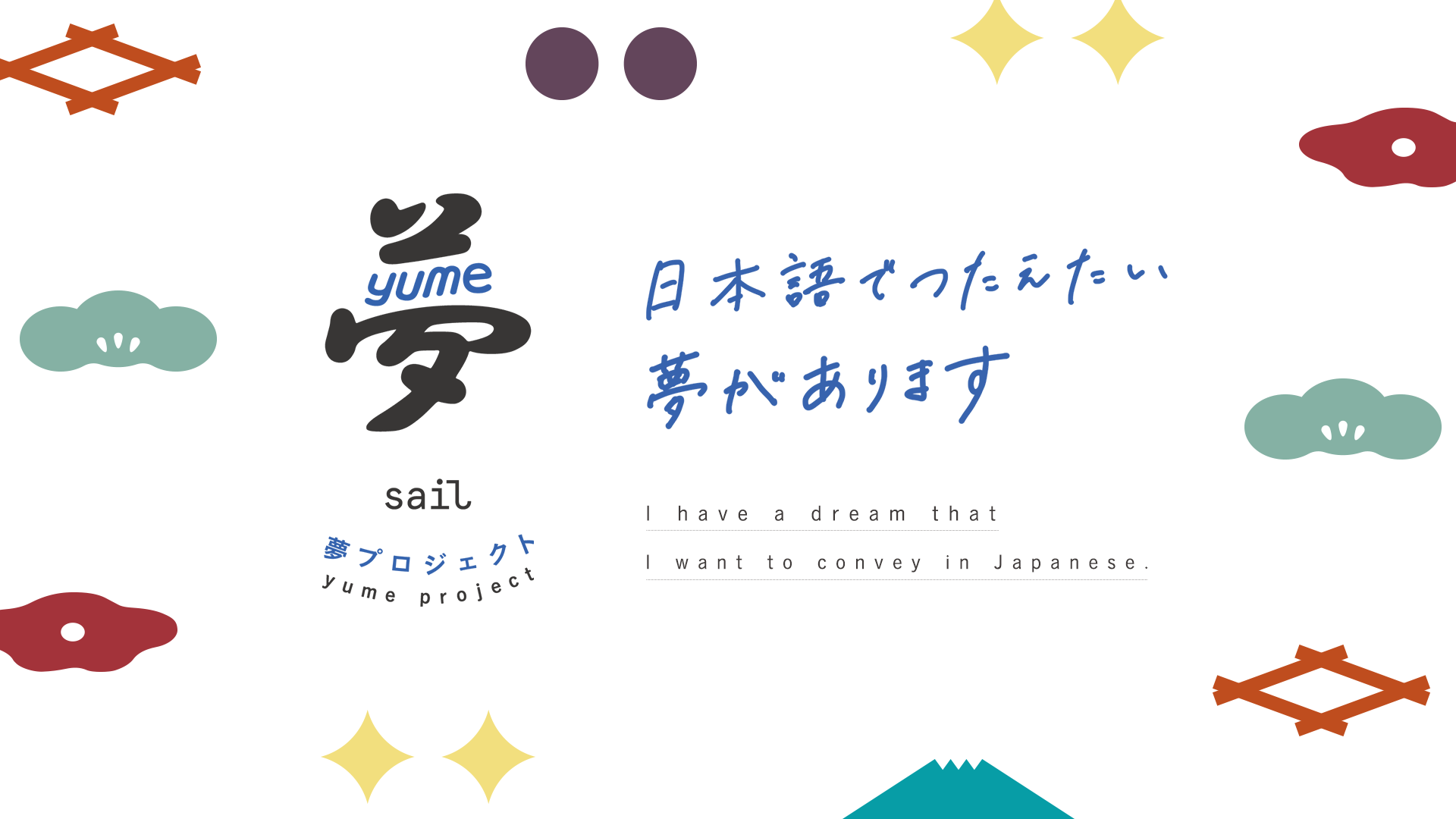 Helte Co., Ltd., (located in Kashiwa, Chiba; CEO: Manabu Goto; hereinafter referred to as "Helte") has begun accepting entries for the 2nd Sail Yume Project, the world's largest Japanese speech contest, as of December 1st (Thursday).
・About the Sail Yume Project
"I love Japan"; "I want to go to Japan"; "I want to work in Japan"
The Sail Yume Project is the world's largest online Japanese speech contest, aiming to help those with such dreams. Through the Sail Yume Project, participants whose native language is not Japanese will be able to learn Japanese, experience Japanese culture, and improve their language abilities.
The 1st iteration of the Sail Yume Project held in 2022 saw 1500 participants from 88 countries, and over 2 months of practice and multiple rounds of selection, 10 participants moved on to the final round to give their speech in front of 300 audience members and judges and guests from both in and out of Japan.
Prize winners will be offered experiences such as an expenses-paid trip to Japan and internship opportunities at Japanese companies.
▼Sail Yume Project Website
https://yume-pro.helte.jp/en/
▼Sail Yume Project Video

・What makes the Sail Yume Project unique
The Grand Prize winner is invited to Japan
Helte Co., Ltd., will cover expenses equivalent to 500,000-1,000,000 yen, including travel to Japan, transportation within Japan, and accommodation expenses. The 1st Grand Prize winner was a college student from Egypt, whom we are preparing to bring to Japan in March of 2023 by her request.
An opportunity to learn more about the Japanese language and culture
Participants will be granted an account with free access to the community-focused conversation service Sail, in order to provide them with the opportunity to learn more about the Japanese language and culture. We will also offer free online Japanese classes by our dedicated Japanese language teachers to those who pass the selection process, so that they may perform at their best during the grand finale.
Offering employment support to those wishing to work in Japan
Participants wishing to work in Japan will be introduced to job openings and provided with opportunities to meet with companies. After the 1st Sail Yume Project, one participant received a job offer from a Japanese pharmaceutical company, and she is preparing to join the company next July.
Helte Co., Ltd., will start providing employment assistance for foreign job seekers as of this month.
▼"Sewa-katsu": Japanese Employment Support for People Around the World
A one-stop support service for immigration to Japan, Sewa-katsu is an information matching service that takes care of foreign talent immigrating to Japan.
https://sewa-katsu.helte.jp/en/
・See what participants from the 1st Sail Yume Project have to say!
Grand Prize Winner, Radwa (Living in Egypt, planning to come to Japan in March of 2023)
When I first heard about the Yume Project, I wasn't expecting to win, but I thought that sharing a dream that was important to me was worth a try and decided to participate. It was very inspiring to come to know people from all over the world with their own different experiences and wonderful dreams. I hope that the participants of the 2nd Yume Project will have the courage to share their dreams, whatever they may be, with the people of Japan, and with the whole world. I am very happy to have received the Grand Prize. It was a wonderful experience, full of hope, excitement, and inspiration.
Helte Prize Winner, Solen (Living in France)
My dream is to work as a care worker in Japan, so I wanted to share that dream with others. I was very happy to have made it to the final stage, and I want to work even harder to achieve my dream. Even now, when I think about the Yume Project, it gives me strength. If you have a dream, please believe in it and work hard to make it come true.
Audience Prize Winner, Ren (Living in Taiwan, offered a job at a Japanese pharmaceutical company)
By participating in Yume Project, I felt that my world had expanded. I realized that there were so many friends studying Japanese around the world, and I became motivated to work hard together with them. I also realized for the first time just how brightly I was shining as I worked hard to achieve my dream, and I became more confident in myself.
・What is "Sail"?
Sail is a communication service that connects Japanese learners around the world with Japanese people in a safe and enjoyable environment.
▼Click below to visit Sail's websites
Sail Website - 日本の人向け|for Japanese
https://sailjp.helte.jp/
Sail Website - 世界の人向け|for International
https://sailglobal.helte.jp/
▼Company name: Helte Co., Ltd.
URL: https://helte.jp/
Sail URL: https://sailglobal.helte.jp
Address: Daiichi Mitoya Bldg. 3F, Azumakamicho 2-28, Kashiwa City, Chiba Prefecture, Japan 277-0011
CEO: Manabu Goto
Capital: 130,181,703 JPY
Business Activities:
・Operation of the Sail communication service
・Management of our website and social media
・Connecting foreign talent with Japanese companies
▼Contact us about this press release
Helte Co., Ltd.
Contact: Akiko Goda
E-mail: support@helte-corp.com
Sailのホームページはこちら
SNSはこちら
動画コンテンツのご視聴はこちら