9月のzoom交流会「Cafeさくら🌸」のお知らせです。
URLはこちら https://us06web.zoom.us/j/8182505050
(English follows Japanese)
Cafeさくら🌸の説明はこちら/About Cafeさくら🌸
▼テーマ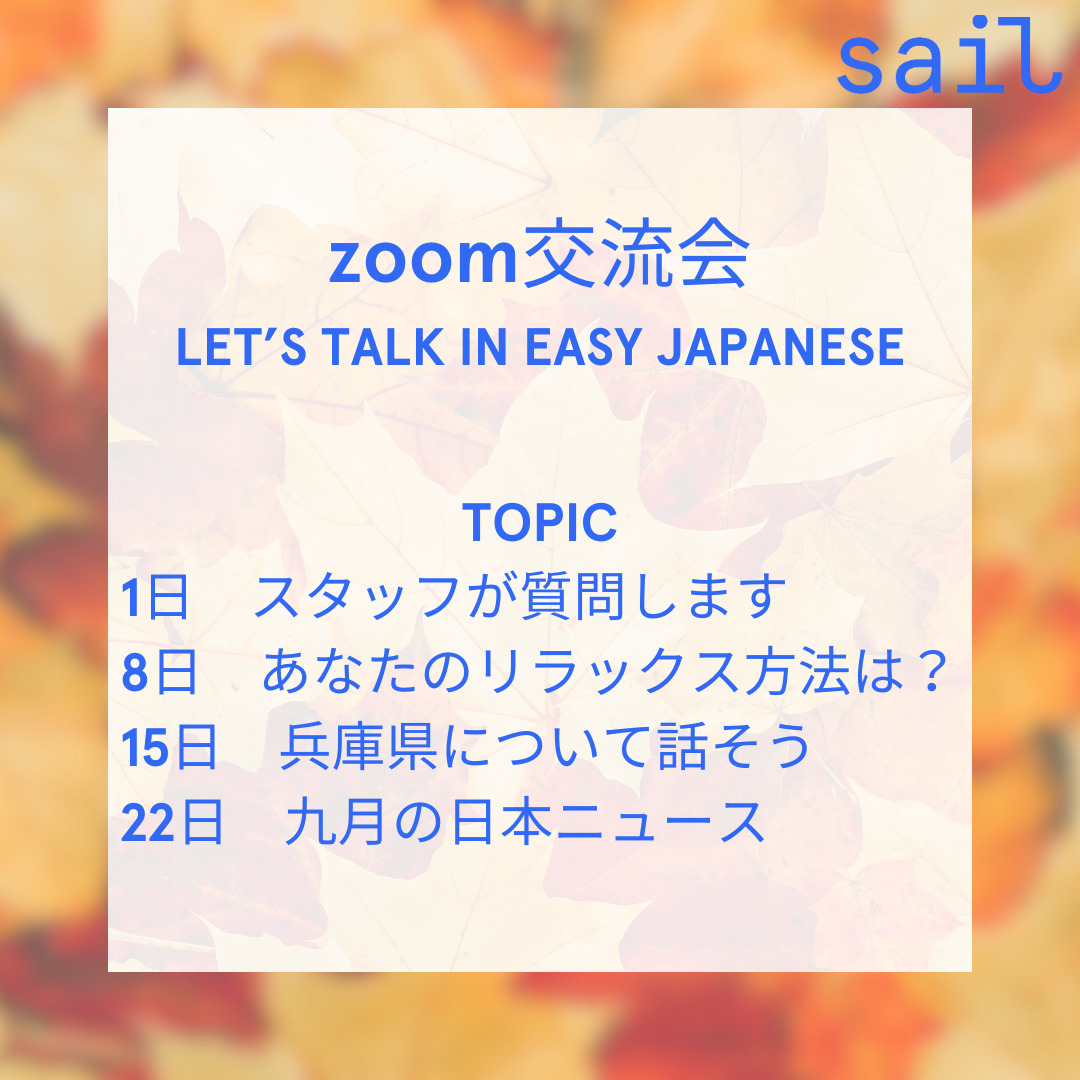 9月1日 15:00-(JST) スタッフが質問します
スタッフがSailerの皆さんに質問をします。Sailアプリや毎日の交流について、色々と教えてください!
8日  8:00~/17:00~(JST) あなたのリラックス方法は?
9月8日は休養=リラックスの日です。あなたのリラックス方法や、リラックスグッズを教えてください。
15日 15:00-(JST) 兵庫県について話そう
兵庫県について話します。おいしい食べ物や、有名な観光地など、色々な情報を聞くことができるかもしれません!
22日  8:00~/17:00~(JST) 9月の日本ニュース
9月に起こった日本のニュースをやさしい日本語で説明します。皆さんの国や地域ではどんなことが八月ありましたか?政治、経済、文化、社会など様々なトピックについて話しましょう。
Topic
Sep. 1st 15:00-(JST) Questions from Staff
Our staff will ask Sailer questions, tell us a lot about the Sail app and your daily interactions with it!
8th 8:00~/17:00~(JST) What is your relaxation method?
September 8 is Relaxation Day. Please let us know your relaxation methods and relaxation goods.
15th 15:00-(JST) Information about Hyogo Prefecture
We will talk about Hyogo Prefecture. You may hear about delicious food, famous sightseeing spots, and much more!
22nd 8:00~/17:00~(JST) Japan News in September
We will explain the news in Japan that happened in September in easy Japanese. What kind of things happened in your country or region in September? Let's talk about various topics such as politics, economy, culture, and society.
Sailのホームページはこちら
SNSはこちら
動画コンテンツのご視聴はこちら